Trails
Today, there are trails of all types that have become more popular than ever. With the help of volunteers, non-profits, businesses, and  government agencies, we're all working together to make trails a reality.
Searching for the perfect trail has just become easier with our new interactive Parks and Trails Map app.  Our Parks and Trails app allows you to search for County parks and trails at your finger tips using your desktop, tablet or handheld phone.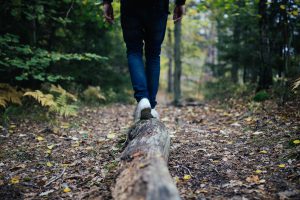 Of all the paths you take in life, make sure a few of them are dirt.   ~ John Muir
You can scroll below for a summary of County Parks' trails listed by city or click on the Parks and Trail Map app link for additional information.
Atascadero
Jim Greene Trail – 1.5 Miles, Moderate (Hike, Mountain Bike, Equestrian)
Avila Beach
Bob Jones Pathway – 2.5 Miles, Easy (Hike, Mountain Bike, Street Bike)
Lopez Lake Recreation Area
Black Bear Spur – 0.2 Miles, Challenging (Hike, Mountain Bike, Equestrian)
Blackberry Springs – 0.6 Miles, Moderate (Hike, Mountain Bike)
Bobcat Trail – 0.7 Miles, Moderate (Hike, Mountain Bike)
Camp French Road – 1.4 Miles, Easy (Hike, Mountain Bike, Equestrian)
Connector Trail – 0.3 Miles, Moderate (Hike, Mountain Bike)
Cougar Trail – 0.8 Miles, Moderate (Hike, Mountain Bike)
Duna Vista Loop – 3.2 Miles, Challenging (Hike, Mountain Bike, Equestrian)
Duna Vista Spur – 0.7 Miles, Moderate (Hike, Mountain Bike, Equestrian)
Encinal Spur – 1.08 Miles, Challenging (Hike, Mountain Bike, Equestrian)
Escondido Overlook – 0.2 Miles, Challenging (Hike, Mountain Bike)
Escondido Trail – 1.1 Miles, Challenging (Hike, Mountain Bike)
High Mountain – 1.01 Miles, Moderate (Hike, Mountain Bike, Equestrian)
High Ridge Trail – 2.7 Miles, Challenging (Hike, Mountain Bike, Equestrian)
Horse Trail Spur – 0.8 Miles, Moderate (Hike, Mountain Bike, Equestrian)
Marina Trail – 0.3 Miles, Easy (Hike, Mountain Bike)
Rocky Point Trail – 0.4 Easy (Hike, Mountain Bike)
Turkey Ridge Trail – 1.0 Mile, Challenging (Hike, Mountain Bike)
Los Osos
Elfin Forest – 0.8 Miles, Easy (Walking Boardwalk)
Monarch Grove – 0.4 Miles, Easy (Hike, Mountain Bike, Street Bike)
El Moro Pathway – 0.5 Miles, Easy (Hike, Mountain Bike, Street Bike)
Nipomo
Cypress Ridge Trail – 1.01 Miles, Easy (Hike, Mountain Bike, Equestrian)
Mesa Meadows – 1.11 Miles, Easy (Hike, Mountain Bike, Street Bike)
Knollwood Trail – 1.2 Miles, Easy (Hike, Mountain Bike, Street Bike)
San Luis Obispo
Eagle Rock Trail – 1.4 Miles, Strenuous (Hike, Mountain Bike, Equestrian)
Oak Woodlands – 1.5 Miles, Moderate (Hike, Mountain Bike)
Bishops Peak – 2.2 Miles, Challenging (Hike)
Felsman Loop – 2.4 Miles, Moderate (Hike)
Santa Margarita Lake Recreation & Natural Area
Blinn Trail – 10.01 Miles, Moderate (Hike, Mountain Bike, Equestrian)
Eagle View Spur – 0.2 Miles, Easy (Hike, Mountain Bike, Equestrian)
Falcon Trail – 5.5 Miles, Challenging (Hike, Mountain Bike, Equestrian)
Grey Pine Trail – 3.5 Miles, Easy (Hike, Mountain Bike, Equestrian)
Rocky Trail – 1.0 Miles, Easy (Hike, Mountain Bike, Equestrian)
Sandstone Trail – 2.9 Miles, Moderate (Hike, Mountain Bike, Equestrian)
Sapwi Trail – 1.5 Miles, Moderate (Hike, Mountain Bike, Equestrian)
Templeton
Vineyard Drive Trail – 0.6 Miles, Easy (Hike, Mountain Bike, Street Bike)